Pre-engineered Buildings (PEBs) are custom-built steel structure buildings based on architecture and engineering requirements of users.
Ca Mau Fertilizer Project






Samsung Project
THE BASIC PARAMETERS
PRE-ENGINEERED BUILDINGS IS MADE UP OF
The entire primary members and secondary members are designed and fully fabricated including cut-to-length, punching, drilling, welding and preforming in the factory before shipped to the site for erection.

At the site, all components are assembled and jointed via nut & bolt connections; thereby reducing the costs and assembly times.
These buildings can be provided with different structural and non-structural additions such as wall lights, turbo vents, roof monitors, ridge ventilators, doors & windows, trusses, mezzanine floors, canopies, crane systems, insulation…, based on the customer's requirements.
MODEL OF PRE-ENGINEERED BUILDINGS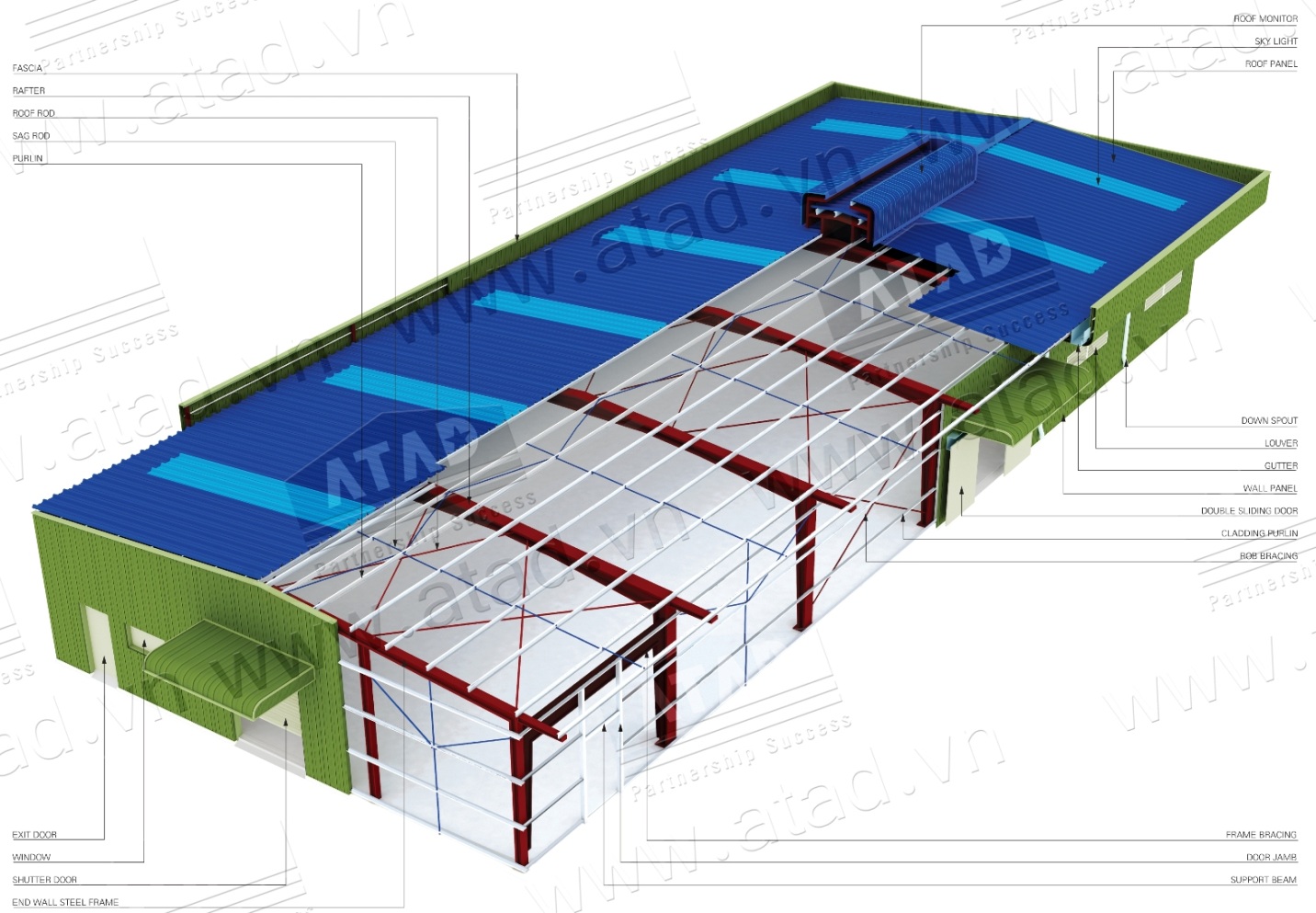 THE ADVANTAGES
1. Significant Cost Savings
Pre-Engineered Buildings can save 20-30% of the cost compared to conventional construction. The non-load bearing parts help minimize the amount of steel to make the lighter frame and optimize materials.
2. Durability
PEBs are very durable and non-combustible, able to withstand storms, high winds and strong earthquakes.
3. Quick Erection
PEBs are easy to erect in short time period because each project has the detailed assembly drawings, fully fabricated components and a step-by-step erection guides.
4. Flexibility
Pre-Engineered Steel Buildings can have few or no internal columns, meaning that they are better for storing a large amount of equipment, installing lifts, and conducting internal activities.
Moreover, PEBs are flexible, easy to expand in the future, and also economically with low transportation cost.
5. Energy Efficiency
Nowadays, PEBs are the green solution for the environment with CO2 reduction, energy efficiency…
PEBs boost energy efficiency and can lead to huge savings on heating and cooling costs. Especially, all components don't cause dust or noise and reduce time effectively during erection.
CONTACT US – OUR ATAD EXPERTS WILL SOLVE YOUR ISSUES
Whether you're looking for a contractor, would like to become a partner, or want to know more about pre-engineered buildings, please don't hesitate to contact us to discuss further. We will help you resolve issues quickly and easily for your projects
ATAD STEEL STRUCTURE CORPORATION
Headquarter
Address: 283 Hung Vuong St, Ward 9, Dist 5, Ho Chi Minh City, Vietnam
Email: sales@atad.vn
Tel: (+84) 8 3833 6898, (+84) 8 3833 6899
List of representative offices